The WINTER THROWS CLINIC started back in 1995 and was held at Cypress High School in Cypress, Ca.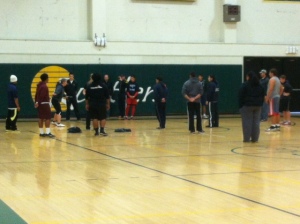 At that first clinic Coach Art Venegas brought with him several of his top throwers, including John Godina, Dawn Dumble, Valeyta Althouse, Mark Parlin and many more. But he also brought with him Olympian Al Joyner. The clinic was a huge success, many coaches and athletes wanted it to become a regular occurrence.
So with that the clinic continued moving locations several times, from Cypress High School to Golden West College, to Mt. SAC and now back at Golden West College.
Over the years many College Coaches have also helped and spoke at the clinic with Coach Venegas. Just some of them include: Don Babbitt U of Georgia, David Dumble of Arizona State, Dawn Dumble formerly Coach of Arizona State, John Frazier of U of Tennessee (formerly U of Arizona & U of Florida), Greg Hodel of Long Beach State, Brian Blutreich of Univ. of North Carolina, Linda Blutreich of Duke Univ. several of these coaches still come they just drop in and stay the whole day because they are family.

Just a few of the Olympians who have worked or participated in the clinic are:

John Godina, Seilala Sua, Suzy Powell, Dawn Dumble, Valeyta Althouse, Lynda Blutreich, Brian Blutreich, Nada Kawar, Al Joyner, Stephanie Brown-Trafton & Ian Waltz.

At the 2004 US Olympic Trials 14 participants in the throws had attended the clinic in the past.

Numerous athletes that have attended the clinic have found their way onto College teams because of the clinic. Some of them not with coaches in attendance, but those coaches talking to other coaches and letting them know of a certain athlete.

With the new title of VS Athletics Throws Summit we look to adding a whole new history with many new speakers each year.